The first tremors were felt in the car last night – calling home after 2 days at a conference in Philly, a relatively innocuous statement about problems getting on the Internet. How many times have I fixed that, thought I?
Heh.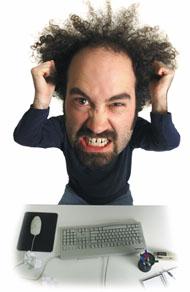 After setting up a home network this summer with reasonable success, and having only minor problems since then, I was not prepared for a Three Mile Island meltdown. OK, a bit of an overstatement. But I'm sure an outside observer would have been quite amused at the assortment of wires, computers, and other paraphernalia as I spent the whole morning troubleshooting.
It seemed obvious that the router had experienced a visitation from some other planet, and decided to make a voyage to where no router has ever gone before. Fortunately, I had another one on hand from a previous attempt to set up a wireless node, so, with some phone coaching by a neighbor (who does this stuff for a living), I finally got the new router in place.
Still no Internet.
Then I noticed that the little DSL light on the modem, which indicates that, yes indeed, it is talking DSLish to the outside world, was not lit up. Uh oh. Another call, this time with skillful navigation through an endless "if you are…please press 2" menu put in place by the DSL provider, finally got me through to an actual helpful human being who diagnosed that, yes indeed, DSL was no longer being spoken by my line (another extraterrestrial visitation?), and then, amazingly, she got it re-configured "live" as we spoke. She may or may not have been halfway across the planet – it didn't matter. Via electronic network, she was able to access and "heal" my connection on the spot. That was cool.
More monkeying with Windows settings and playing around with wires, and finally, home and work computers were basically back to working (mostly) properly. Chernobyl averted once again.
I hope tomorrow is a bit more….productive.